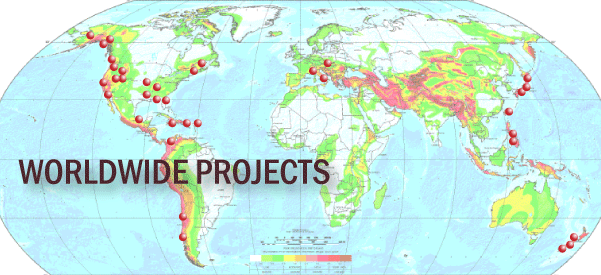 SEISMIC HAZARD MAP (SOURCE: HTTP://WWW.SEISMO.ETHZ.CH/GSHAP/)
OUR CLIENTS SAY...

CLIENT LETTERS

"I continue to be impressed not only by your scope of knowledge in seismic analysis and structural engineering, but also by your professionalism and high standards.  Your report was thorough, delivered on time and met every objective we agreed upon.  I appreciated the care you took to investigate and understand all our data.  You made recommendations to improve the quality of that data, and you took the time to physically inspect many of our buildings, to ask questions and to offer suggestions to improve seismic mitigation.  You explained very technical, complex concepts in a way that could be understood by others."

Ellen B. Cooper, CPCU, ARM
Sr. Risk Manager
Microsoft Corporation

"With the seismic retrofit of our South Seattle buildings now successfully complete, I want to take a moment to commend you and your staff for the excellent work.  Your engineering studies, retrofit design and specifications, and construction monitoring were timely and very professional. Thank you for the great job!"

William E. Coats
President
VIOX Properties LLC

"MRP Engineering performed the study for PeaceHealth in a very timely and professional manner. They were able to relate well with corporate risk management and regional facility managers. Mark Pierepiekarz is obviously an expert in seismic evaluation and produced a comprehensive report that is "user friendly."  I do not hesitate in recommending MRP Engineering for similar seismic risk evaluations in the future. "     
Deborah B. Johnson
Corporate Director of Risk Management
Peace Health

"The work was efficient and thorough. Mark Pierepiekarz's knowledge of inherent seismic risks and its potential impact on our buildings was impressive. The 20+ page report was both comprehensive and cogent. Its recommendations were easily understood by our facilities staff. Our insurance broker has used the report for our annual insurance renewal which undoubtedly helped control this year's premium increase. In this time of increased concern over building safety and replacement costs in the face of significantly rising insurance costs, I found MRP Engineering's reports insightful, useful, and supportive of our facility needs and commitments. I would recommend his expertise to any organization seeking to similarly understand and control these risks."
Jeffrey A. Ohlstrom
Finance Manager
Bellevue Club
MRP ENGINEERING, LLC | P (425)430-0500 E info@mrpengineering.com