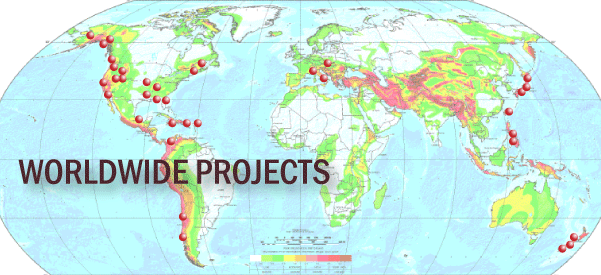 SEISMIC HAZARD MAP (SOURCE: HTTP://WWW.SEISMO.ETHZ.CH/GSHAP/)
PROFESSIONAL EXPERIENCE
MARK R. PIEREPIEKARZ P.E., S.E.
President
PROFESSIONAL EXPERIENCE

Mark Pierepiekarz has over 30 years of professional experience focusing on structural and earthquake engineering.  He has performed structural analysis, pro-active retrofit and upgrade design, and repair of impacted commercial, industrial, and public buildings and other facilities throughout the U.S. and abroad.  His structural engineering experience also includes seismic upgrade design and analysis of bridges, reservoirs, and lifeline systems.  Actual strong-motion earthquakes have tested his structural designs with successful results.  Mark has also investigated damaged and distressed buildings and structures, and performed root-cause analyses following damaging earthquakes, tsunamis, and hurricanes.

Mr. Pierepiekarz remains at the forefront of structural engineering technologies.  He has authored and presented a number of technical papers on the seismic design of structures.  He is also active in providing input into the development of building codes and standards.  Mr. Pierepiekarz has served as the President of the Structural Engineers Association of Washington (SEAW Seattle Chapter), and represented this organization in the "Seattle Fault Scenario" project. Mark is currently serving on the City of Seattle's Unreinforced Masonry Policy Committee, advising the city on seismic retrofit policy for unreinforced masonry buildings. He is also currently serving as Director of the Seattle Chapter of Earthquake Engineering Research Institute (EERI).
Mark Pierepiekarz is a registered Professional and Structural Engineer in several states, including Washington, Oregon, and California.
AWARDS & ACCOLADES

He was named 2009 SEAW Seattle Chapter Engineer of the Year.  The award recognizes individuals who have provided service to SEAW and the profession, brought visibility to the profession that is favorable in the public eye, have exhibited distinguished technical and creative achievement, and have encouraged and nurtured others in their professional development.
DISASTER INVESTIGATIONS
Mr. Pierepiekarz has personally performed post-earthquake damage investigations and has written reconnaissance reports following the Central Mexico (2017), Napa, California (2014), Japan (2011), Chile (2010), Haiti (2010), Nisqually (2001), Northridge (1994), Landers/Big Bear (1992), Upland (1990), Loma Prieta (1989), Whittier Narrows (1987), Superstition Hills (1987), and Satsop, Washington (1999) earthquakes.  He has performed damage investigations following 2005 Katrina and Rita hurricanes.
EDUCATION
UNIVERSITY OF ILLINOIS, Champaign-Urbana, M.S. Structural Engineering, 1985
UNIVERSITY OF ILLINOIS, Champaign-Urbana, B.S. Civil Engineering, 1984
SAMPLE SEMINARS AND WORKSHOPS
"The Great Japan Earthquate and Tsunami: Lessons for the Pacific Northwest,"
Structural Engineers Association of Washington (SEAW),
University of Washington,
Seattle, Washington, June 15, 2011.
"Helping Haiti Symposium,"
University of Washington College of Built Environments,
Seattle, Washington, April 19, 2010
Risk and Insurance Management Society
West Coast Rims Conference
"Property Valuations & Risk Evaluations for Mitigating Losses from Natural Catastrophic Events,"
Seattle, Washington, September 25, 2009
Structural Engineers Association of Washington
"Practical Approaches for the Rehabilitation of Existing Buildings,"
Seattle, Washington, 2008
Structural Engineers Association of Washington
"Seismic Design Using the 2006 International Building Code,"
Seattle, Washington, 2007
Seattle Fault Earthquake Scenario Conference
"Performance of Buildings,"
Bellevue, Washington, February 28, 2005
Structural Engineers Association of Washington
"Seismic Rehabilitation of Buildings,"
Seminar Co-Chairman, Seattle, Washington, April 12, 2002